If you'd like a place for 2020, please pop into the shop and speak to us.
Book group membership for 2020 is £75.

We have put the two teen groups together as they were small groups and doing the same level books.
I am more than happy for you to decide where your children go based on the books rather than their ages just let me know once you've looked.
EXCITINGLY we are also doing a book group bag so if people are buying the bundle of books for Christmas presents they can also buy an exclusive book group tote bag to put them in.
Please feel free to come and join anyone up from October 31st
View the best book group reviews of the books we are reading here…
Here's what we're reading:
(All book groups are held in the shop between 5.30pm to 6.30pm)
Age 6-7 years
Monday 20th Jan – Claude: Lights!Camera! Action! by Alex T Smith
Monday 16th March – The Land Of Dreams(Faraway Tree)by Enid Blyton
Monday 18th May – In the Fast Lane (Dixie O'Day) by Shirley Hughes
Monday 13th July – The Cat Who Got Carried Away by Allan Ahlberg
Monday 14th September – The Twitches Meet a Puppy by Hayley Scott
Age 7-8 years
Tuesday 21st Jan – The Queen's Nose by Dick King-Smith
Tuesday 17th March – The Boy Who Biked the World by Alastair Humphreys
Tuesday 19th May – Toto the Ninja Cat and the Great Snake Escape by Dermot O'Leary
Tuesday 14th July – Clifftoppers the Arrowhead Moor Adventure by Fleur Hitchcock
Tuesday 15th September – Hubert Horatio How to Raise Your Grown-Ups by Lauren Child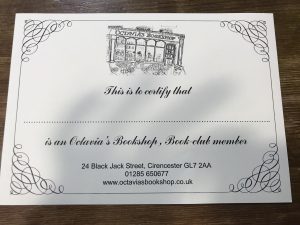 8-9 years
Wednesday 22nd Jan – Pages and Co by Anna James
Wednesday 18th March – The Last Zoo by Sam Gayton
Wednesday 20th May – The Secret of Platform 13 by Eva Ibbotson
Wednesday 15th July – The Umbrella Mouse by Anna Fargher
Wednesday 16th September – Swimming Against the Storm by Jess Butterworth
10-12 years
Monday 6th Jan – Flamingo Boy by Michael Morpurgo
Monday 2nd March – The Boy at the Back of the Class by Onjali Q.Rauf
Monday 4th May – Anna at War by Helen Peters
Monday 29th June – Star of Kazan by Eva Ibbotson
Monday 31st August – A Pinch of Magic by Michelle Harrison
Teens
Tuesday 7th Jan – The Island by M A Bennett
Tuesday 3rd March – Little Liar by Julia Gray
Tuesday 5th May – The Knife of Never Letting Go by Patrick Ness
Tuesday 30th June – Letters to the lost by Brigid Kemmerer
Tuesday 1st September – Ketchup Clouds by Annabel Pitcher