Francesca Tyer – 'The Firestone' and 'The Seastone'
Saturday May 28th at 11am
Join Francesca for our next book signing event.
The Firestone: In the early hours, just after midnight, a power cut strikes and in an abandoned street, a broken clock starts ticking. The clock, held in the hands of a teenage boy, has the power to change his fate and the course of history. James Fynch doesn't believe in magic, but his discovery of a coexisting world changes his destiny. The barrier between worlds hasn't been broken for centuries, but with dark powers rising, it is more fragile than ever before. In this magical world, James becomes bound to a quest for the firestone, one of four mythical crystals able to destroy the rising darkness. Although James doesn't believe in magic, he must find the firestone or else both worlds may fall…
The Seastone: Several months have passed since James Fynch returned to his world, but not a day goes by when he doesn't think about his extraordinary adventure. With the gold clock ticking more persistently than before, he knows that time is running out. 
Turning the dials of the clock, he finds himself once again in Arissel. Reunited with Will, Arthur and Aralia, the quest for Arvad's crystals begins again. The task ahead is daunting and the companions must use every skill they possess to fight against the rising darkness. 
James is determined to protect his world, but soon discovers there is nowhere to hide. Danger lurks everywhere, but the journey is far from over. Following nothing but a myth about the mystical island of Arvora, they face enslavement and death in their race to find the seastone…
From 11:00am on Saturday 28th May
(No tickets needed)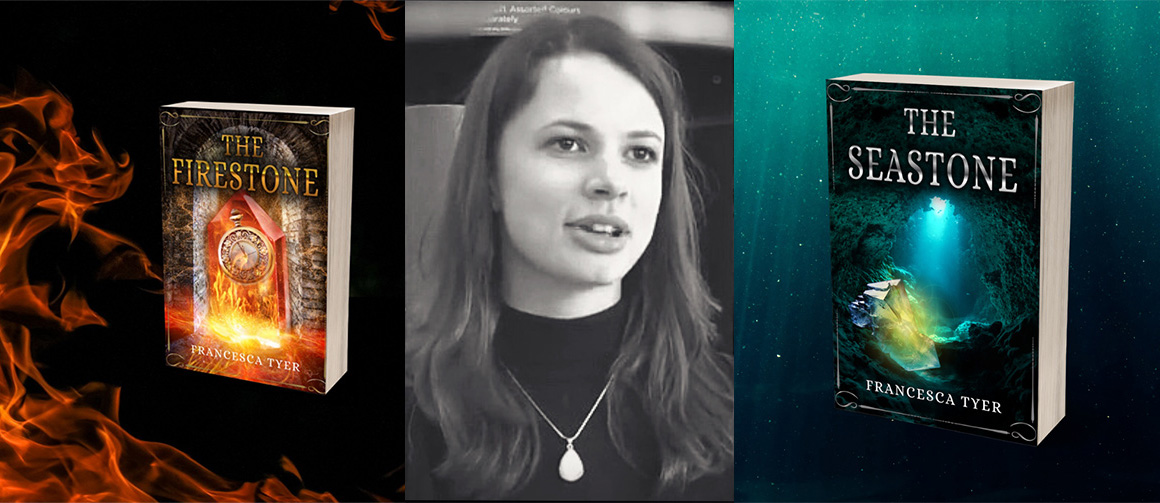 ---
---

Dinah Mason Eagers – 'At the Bottom of Dudley's Garden'
June 18th at 11am
Come along to a book signing by local author Dinah Mason Eagers.
"We need to tell you something Lily!" they buzzed. "It's about the wildflowers …"
Lily Katinka thinks she is the most beautiful flower in Dudley's garden. But she's rather worried because Dudley has allowed the end of the lawn to grow wild, and it seems so untidy! Adding to her dismay, the 'ugly weeds and scruffy grasses' are getting a lot of attention from the bees and the butterflies. What is so special about the bottom of the garden? Lily Katinka has to find out …
Perfect for children and families who love a heart-warming and beautifully illustrated story about the hidden world of wildflowers in the garden.
This edition features an author's note filled with surprising details about bees – for example, did you know that honey bees make a special food out of pollen called bee bread?
Praise for Dinah and Anna:
"At the Bottom of Dudley's Garden is a picture book that would be enjoyed by all … It is also an important lesson that beauty comes in all shapes and sizes and it's not just looks that take centre stage". – Kraftireader, book blogger
"Wow … A great introduction to the idea of supporting bees and growing wild flowers" – Goodreads reviewer
""A simple , well-illustrated children's story with a real message" – Five stars
 From 11:00am on Saturday June 18th
(No tickets needed)