Octavia's Bookshop Loyalty Card
Make sure you ask for a loyalty card the first time you visit us – for every nine books you buy, you get one free! So, start collecting the stamps.
Octavia's Bookshop Gift Vouchers
A great gift for everyone – in £5 denominations. We even sell greetings cards to put them in!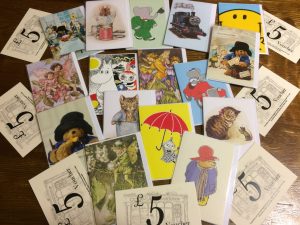 National Book Tokens
That can be spent in all book shops.
Book Spa
The perfect present for book lovers and reluctant readers alike. For just £10.00 and some book vouchers to buy books, children will get Octavia's personal recommendations, a bag of yummy treats from The Candy Man next door and a hot chocolate. And for the grown-ups, coffee and cake from the amazing Jacks Café.
What could be better? Browsing brilliant books while having some yummy treats?!
Birthday Parties
For a smaller party idea, why not bring the birthday boy or girl and friends to the shop for some of Octavia's personal recommendations and some sweeties too! Forget the party bag nightmare, go away with a book for keeps!
Better still, why not browse our book signing events and come along and meet an author for a VIP experience! Contact Octavia for more information.
Tote Bags
We now sell beautiful, bespoke, environmentally friendly bookshop tote bags for £6.00
Designed and produced by Jemma of TinksPrints: https://www.tinksprints.uk/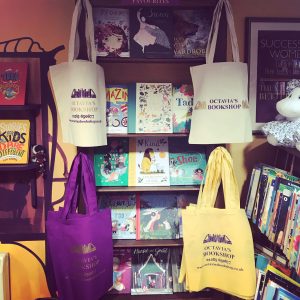 Next Day Delivery
We can usually get any book for you within 24 hours – so if we don't have what you're looking for, don't panic, we'll get it delivered into the shop the very next day. Just ask at the counter for details.
Schools
Octavia's Bookshop offers a bespoke service for schools including recommendations for all ages with great help for reluctant readers, stock picks and 10% discount with account facilities. Ask Octavia for more information.