WELCOME TO MY BOOKSHOP!
The Bookseller Best Independent Children's Bookseller 2013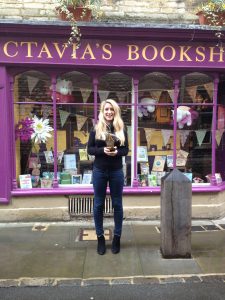 We opened our doors in March 2011 on a truly memorable day with Lauren St John cutting the purple and gold ribbons! And what fun we've been having ever since.
I have always been passionate about children's literature and learnt about the book business working for Ottakar's and then Waterstone's, but now I finally have my own beautiful shop in my hometown of Cirencester.
While you will find more than half the stock in the shop is dedicated to children's books (from buggy books to fab teen fiction and your favourite classics!) we have also increased our selection of titles for grown-ups; bestsellers, beautiful reference books but also great book club choices.
Pop in for a look around, have a seat and browse at your leisure. We're always delighted to recommend books for adults and children. Keep an eye on the events page for book signings, our annual children's literary festival. We also run book spas and do a gift voucher for the shop, both which make great gifts.
The bookshop was runner up in the Telegraph's Best Small Shops in Britain Awards in 2012, in 2013 we won Best Children's Independent Bookshop in The Bookseller Industry Awards and we have been voted Best Bookshop in the Muddy Stiletto Awards for the last 3 years.
I look forward to meeting you!